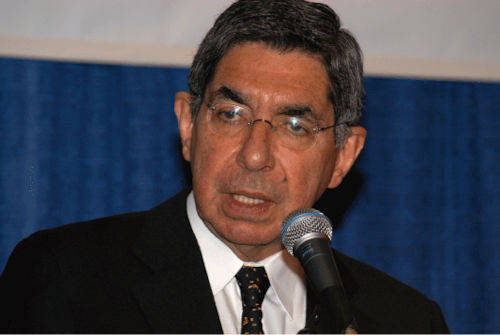 «An Effective ATT for Development and Human Security:
Reconciling Ambition and Implementability»
United Nations, New York
14 de febrero de 2012
I have been asked to join you today to discuss the balance between the ambition and implementability of this treaty; the balance between ideals and reality; the balance between hopes for peace, and national interests. The no man's land between dream and deed is well known to me, as it must be to any lifelong public servant, or anyone who spends his life in the pursuit of peace. Successfully traversing its rocky terrain requires hard decisions, faith, and good luck. There is no marked path, no signposts, no map to show you the way. The best description of it is found in the words of the great Spanish poet Antonio Machado, who wrote: "Caminante, no hay camino… Traveler, your footsteps are the road, nothing more; traveler, there is no path except the one you make by walking. As you walk you make the road, and when you look back, you see the trail where you'll never again set foot."
These verses, some of the best-known in my language, speak directly to the pioneers of the Arms Trade Treaty. During the past fifteen years, we, too, have journeyed forward with little guidance, seeking the best path between ambition and practicality. This year more than ever, as we approach the final sessions that will determine the success or failure of this initiative, we are under enormous pressure to decide when to concede, when to hold firm, and how to get the support we need without losing our way. If my life's work has taught me anything, it is that at times like these, it is crucial to keep in mind what is at stake. Before we can compromise, we must remember that which cannot be compromised. Before we can be pragmatic, we must make sure our ideals are still present in our minds. So today, I would like to go back to the beginning – not just 15 years ago, when the journey of the Arms Trade Treaty began here in New York, but still further back, when the journey began for me personally, and for my country.
Many of you in this room today are familiar with the story of Costa Rica- that small nation that has accomplished big things. In 1948, our government chose to abolish our army and declare peace to the world. For us, peace is no longer a state that seems idealistic or impractical. It is the foundation of our modern state, the base of the concrete successes that followed. The money we saved by eliminating our armed forces was invested in the education and health of our people. It allowed us to reach a level of human development that far surpasses that of many of our neighbors. It also gave us a unique platform from which to lead and negotiate when, in the 1980s, civil wars and violent unrest broke out in other countries of Central America, bringing our region into a state of crisis.
The peace accords we signed in 1987 included commitments that eventually ended those conflicts and began a new era of development for our region, but the irresponsible flow of small arms and light weapons that occurred in the previous decades had done its damage, and continued to wreak havoc in our societies. For many years after arms suppliers channeled weapons to Central American armies or paramilitary forces in the 1980s, those weapons were found in the hands of the gangs that roamed the countryside of Nicaragua, or of teenage boys on the streets of San Salvador. Other weapons were reshipped to guerrilla or paramilitary groups in Colombia, ready to fuel yet another war, to destroy yet more lives. In Central America, we learned the hard way, that a shipment of weapons into a developing country is like a virus in a crowded room. It cannot be contained, and it can spread in ways we would never have imagined. As I watched what was happening to my region, I realized that the same story was being repeated, time and time again, in developing countries all over the world.
It was in this context that José Ramos-Horta; His Holiness the Dalai Lama; Susan Waltz, of Amnesty International; Donald Gann, of the American Friends Service Committee; Elie Wiesel; Betty Williams; and Gururaj Mutalik, of the International Physicians for the Prevention of Nuclear War, joined me here in New York in 1997, as we unveiled our International Code of Conduct for Arms Transfers. In the fifteen years that followed, working groups and seminars, resolutions and revisions, countless hours of work by hundreds of people, and the support of friends around the world transformed this Code into an initiative for a Treaty, and then moved it to its current position. All this, you know. But what really matters is not what has happened to us in the past fifteen years. What matters most is what has happened to the world. For in the time that it has taken us to do this difficult work, millions of civilians have been killed by small arms and light weapons flowing unrestricted across borders, most of them into the developing world. Many thousands of child soldiers have been armed. Families have been torn apart. And it is impossible to calculate the damage done by poor countries' choice to spend on illegal or unnecessary weapons, diverting funds that should be spent on education and health care. The people affected by the international community's lack of binding regulations on the trade of arms, numbers in the millions.
They are our ambition. They are our ideal. They are the reason for the late nights that have been dedicated to the details of this treaty. The challenge before us is not just to get a document signed. The challenge before us is to do justice to those victims of violence. The challenge before us is to ensure that our goal becomes reality.
These men and women and children deserve nothing less than swift and effective action.
I want to emphasize that phrase: swift and effective action. An Arms Trade Treaty without teeth will not help our cause. As I have said many times, our world has no shortage of noble words regarding the regulation of the trade of arms. Even the institution that brings us here today, the United Nations, was founded on such a promise, the promise that we would be able to sleep peacefully after the most abominable of wars. Article 26 of the United Nations Charter stated that "In order to promote the establishment and maintenance of international peace and security with the least diversion for armaments of the world's human and economic resources, the Security Council shall be responsible for formulating… a system for the regulation of armaments." That promise has not been kept. The Security Council has not taken up that challenge. That promise has remained trapped behind glass, not making a difference in people's lives.
That is why we are here. And that is why we cannot stop short of a treaty that prohibits arms transfers with a substantial risk of facilitating or committing serious violations of international law or human rights. We cannot stop short of a treaty with a comprehensive scope, including not only all conventional arms, including small arms and light weapons, but also their ammunitions and munitions, components, accessories, and relevant technologies and expertise. We cannot stop short of a treaty with robust regulations on licensing systems, transparency and public reporting. This last point is of utmost importance. No other measures we implement, no other procedures we establish, will matter if all countries do not agree to the transparent disclosure of their transactions.
This may be one of the most difficult aspects of implementing this treaty. Countries will ask why they should sacrifice any of their own sovereignty or discretion, voluntarily, to support our cause. My answer to them is that no definition of sovereignty can include the freedom to enable the violation of human rights, the murder of the innocent, the oppression of the world's neediest and most helpless. No definition of national security or self-defense allows room for such acts. These concepts are thoroughly ingrained in the framework of international law that our world has developed in the past half-century. All the Arms Trade Treaty does is draw the link between enabling these violations, and committing them. It simply fills in the blanks of the promises of the past, in order to address the demands and dangers of this new millennium.
For in today's world, this treaty is no longer a matter of idealism alone. It is a matter of practical concerns. It is a matter of self-protection, even for the richest and most powerful of nations. I have spoken of the changes of the past fifteen years, but one of the most significant of those changes is surely the fact that the world has become smaller, for better or for worse. Tragedies and terrorism have illustrated for us all, in new and terrifying ways, the fact that our borders no longer protect us. Now more than ever, we are part of one human family. It has become more difficult for the superpowers to ignore unrest and violence in developing nations. Violence in Mexico and Central America sends waves of immigrants northward. Violence in the Middle East threatens the security of the entire world. Fears of terrorism dominate our headlines and our policies. If it is legitimate for us to worry about the possibility that terrorist networks gain access to a nuclear weapon, it is also legitimate for us to worry about the rifles, grenades and machine guns that are given into their hands, not to mention the hands of young people, gangs, and drug cartels. Who said that killing thousands, in a single instant, is worse than killing thousands, one by one, every day? Today's context of violence makes it more important than ever, not just for countries in conflict, but for all countries, to end the sale of weapons that put all our children in danger.
My friends:
I began today with a few words about journeys – the journey of my country, the journey of my region, the journey the Arms Trade Treaty has taken since its creation here in this city. One of the most unlikely and extraordinary journeys of my life took me to a place not far from this room, just over two years ago. It was a time of beginnings and endings. It was the last time I would represent my country as its President. It was also the first time Costa Rica had ever presided over the Security Council. And so it was that on that September day in 2009, a country without an army sent me as its representative to speak to some of the most powerful nations in the world and to ask them to support the Arms Trade Treaty.
It should have been a lonely walk to that podium. It should have been an isolating experience to look out at an audience that included the world's biggest arms exporters, and make a plea for peace. But I did not make that journey alone. With every step into that room, I was joined by the Nobel Laureates who stood with this treaty from the very beginning and asked the world to take note. With every breath I drew, I felt the presence of the countries and organizations that joined us in the years that followed. With every word I spoke, I thought of the negotiators and volunteers, researchers and diplomats, and leaders and ordinary citizens who have dedicated heart and soul to this effort. It may seem strange to discuss Valentine's Day and preparatory committee hearings in the same sentence. However, as we gather here today on a holiday celebrating love in all its forms, I cannot help but observe that in these fifteen years, the bridge between idealism and pragmatism, between dreams and reality, has been built by the generosity and vision of hundreds of people. It has been built by kindred spirits who, despite their different views and different backgrounds, are moved at the end of the day by their love of humanity and their desire to change its destiny.
Caminante, no hay camino. Traveler, there is no path. Together, we are choosing the way forward for this treaty. Together, we have come far enough that we can look back and see the road we will never, must never, travel again. There are no guarantees as we look towards July. There is only the certain knowledge that this journey we have chosen is one that humanity must undertake. It is a journey we cannot afford to avoid. And if we persist, if we endure, then this just might be the year that takes us closer to the peace and justice we have sought for so long.
Thank you very much.